Moving from China to India? Shipping Furniture & Personal Effects to India?
RapidWorld Relocations is a leading international moving company in China with offices in Beijing, Guangzhou and Shanghai.
Submit a quote request, email us or call us at 86-21-5443-6852, and we will get back to you shortly.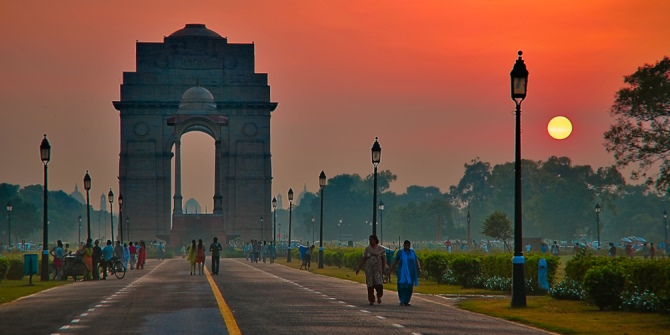 India, officially the Republic of India, is a country in South Asia. It is the seventh-largest country by area, the second-most populous country (with over 1.2 billion people), and the most populous democracy in the world. It is bounded by the Indian Ocean on the south, the Arabian Sea on the southwest, and the Bay of Bengal on the southeast. It shares land borders with Pakistan to the west; China, Nepal, and Bhutan to the northeast; and Myanmar (Burma) and Bangladesh to the east. In the Indian Ocean, India is in the vicinity of Sri Lanka and the Maldives. India's Andaman and Nicobar Islands share a maritime border with Thailand and Indonesia.
The Indian subcontinent was home to the urban Indus Valley Civilisation of the 3rd millennium BCE. In the following millennium, the oldest scriptures associated with Hinduism began to be composed. Social stratification, based on caste, emerged in the first millennium BCE, and Buddhism and Jainism arose. Early political consolidations took place under the Maurya and Gupta empires; the later peninsular Middle Kingdoms influenced cultures as far as southeast Asia. In the medieval era, Judaism, Zoroastrianism, Christianity, and Islam arrived, and Sikhism emerged, all adding to the region's diverse culture. Much of the north fell to the Delhi sultanate; the south was united under the Vijayanagara Empire. The economy expanded in the 17th century in the Mughal Empire. In the mid-18th century, the subcontinent came under British East India Company rule, and in the mid-19th under British crown rule. A nationalist movement emerged in the late 19th century, which later, under Mahatma Gandhi, was noted for nonviolent resistance and led to India's independence in 1947. In 2015, the Indian economy was the world's seventh largest by nominal GDP and third largest by purchasing power parity.[16] Following market-based economic reforms in 1991, India became one of the fastest-growing major economies and is considered a newly industrialised country. However, it continues to face the challenges of poverty, corruption, malnutrition, and inadequate public healthcare. A nuclear weapons state and regional power, it has the third largest standing army in the world and ranks fifth in military expenditure among nations. India is a federal republic governed under a parliamentary system and consists of 29 states and 7 union territories. It is a pluralistic, multilingual and multi-ethnic society and is also home to a diversity of wildlife in a variety of protected habitats. Indian cultural history spans more than 4,500 years. During the Vedic period (c. 1700 – 500 BCE), the foundations of Hindu philosophy, mythology, theology and literature were laid, and many beliefs and practices which still exist today, such as dhárma, kárma, yóga, and mokṣa, were established. India is notable for its religious diversity, with Hinduism, Buddhism, Sikhism, Islam, Christianity, and Jainism among the nation's major religions. The predominant religion, Hinduism, has been shaped by various historical schools of thought, including those of the Upanishads, the Yoga Sutras, the Bhakti movement, and by Buddhist philosophy.
When it comes to moving household goods and personal effects to India, there is a process that is long established and RapidWorld is able to help you resolve any issues. From arranging visas, finding properties and school places, to helping you decide what to take, packing it and shipping it to your new home, you won't be alone. Our services cover whole China span including Beijing, Shanghai, Guangzhou, Shenzhen, Tianjin, Wuhan, Hangzhou, Suzhou, Guilin, Guiyang, Xiamen, Jinan, Nanchang, Changchun, Harbin, etc. We can move you to everywhere in India including New Delhi, Mumbai, Chennai, Hyderabad, Kolkata, Pune, Ahmedabad, Bangalore, etc. Here below are some important information regarding moving personal used household goods and effects to India. Please feel free to contact us should you have any question.

PROHIBITED ITEMS

The following is not permitted into India and if included in shipments will result in seizure of all prohibited items and possible legal penalties against the shipper:
l The following items are strictly prohibited in personal effects shipments:
l Guns, weapons and ammunition (including ornamental)
l Pornographic materials and obscene literature
l Any type of Narcotics RESTRICTED ITEMS
Alcohol is restricted to airline baggage allowance. Similarly Mobile Phones and radio transmitting equipment are restricted to airline baggage rules. In other words Alcohol, mobile phones and radio transmitting equipment will not be allowed to be imported as part of household goods shipments.

Most used household & personal effects, including furniture, kitchenware & small kitchen appliances, glassware, carpets, and other normal household items are allowed duty free, irrespective of their value, provided they have been in owner's possession and use for at least one year. Any new items will be liable for customs duty at the Standard Duty Rate (see below). Sports equipment (incl. Golf kits), musical instruments, electronic items like TVs, LCD / Plasma TVs, PCs, laptops, printers, fax machines, DVD players, high end musical systems, gold / silverware or similar, paintings, Cooking range (cookers), microwave ovens, refrigerators over 300 ltr capacity & other new items in large quantities (pampers, etc.,) attract duties.

One of each of the following used items is allowed duty-free :

1. Personal Computer without peripherals
2. VCR/VCD/VCP/VTR
3. Refrigerator (less than 300 ltrs capacity)
4. Electrical or LPG Cooking Range
5. Washing Machine


Brand and model/ serial numbers of all major appliances must be noted on both the carton and the packing inventory to facilitate customs clearance.

If the owner imports more than one of the same items, the second item and/or the excess value will be subject to a higher standard duty rate @36%.

If the owner imports more than one of the same item, or the total custom assessed value exceeds INR 500,000 the second item and/ or the excess value will be subjected to the higher Standard Duty Rate @ 36%

Alcohol (incl. wine), tobacco, and other alcoholic beverages are not allowed duty free as part of household effects. Customs duties and penalties for the same is very high & can go upto 400% or can be confiscated.

To avoid delays in clearance and heavy duties and fines, we recommend NOT to include the above mentioned items.
Shippers eligible for Mini Transfer of Residence benefitsIndian passport holders eligible for mini transfer of residence benefits may import free of duty personal effects and household goods up to the value of INR 75,000 (effective Feb 28, 2002) subject to the condition that: the goods are owned and used overseas for at least 6 months (a declaration to this effect is required) Electronics such as TV, VCR/VCP/VTR, Washing Machine, Music System, Refrigerators unto 165 ltrs, DVD, VCD and Home Theatre System are permitted at the Concessional Duty Rate up to a combined customs assessed value of INR 30,000. Any items in excess of this limit will be charged at Standard Duty Rate. Not more than one of the above items is permissible. Any new items, or items in excess of the prescribed limits will be liable for duty at Standard Duty Rate. Goods must arrive within the time limits prescribed above (same as for transfer of residence).
Duty RatesConcessional Duty Rate: approx. 15.5%
Standard Duty Rate: approx. 35.7%

Local taxes including Octroi (in selected cities at varying rates) are levied on the total duty amount.
The customs rules and duty rates are subjected to change from time to time at short notices. RapidWorld does not assume any responsibility for duty rates as the customs information provided is for reference purposes only.

DOCUMENTS REQUIRED
Copy of customer's passport
Signed 2 powers of attorney in attachment (please sign above képviselt személy)
Copy of Hungarian ID card, address card and tax card
Copy of any documents stating that the customer lived outside European Union, the last 12 months. It could be electricty or gas bills, accomodation rental contract. This is to avoid payment of taxes and duties
Copy of work certificate from the company (official paper from the company) It must include: with the exact dates of working, address in abroad
Copy of your valued inventory list of your goods. (if you did an inventory list for the insurance, it will be fine).
Delivery address in Budapest (if unknown yet, then later)
Signed declaration and declaration of value in attachment (please sign above nyilatkozat , értéknyilatkozat)
Copy of the residence permit.
Copy of the attestation the residence. – in Switzerland
DIPLOMATSDiplomatic and Privileged personnel are allowed to import personal effects & household goods and a passenger car duty free on producing the Duty Exemption Certificates obtained from the Ministry of External Affairs, Government of India by their mission in India. These shipments are not subjected to customs examination and the shipment is allowed to be moved from the port in the original FCL container in which it was shipped.

CLEARANCE PROCEDURES
Foreign or Indian Nationals, including non-resident Indians, transferring residence to India are allowed to import their household and personal effects subject to the following condition:- Owner must have lived overseas for at least two years and be transferring residence to India. In addition, the owner must not have spent more than 180 days in India during the previous 2 years- Foreign nationals are required to have a visa (work permit) for a minimum period of one year to claim of transfer of residence benefits. They must also register with the Foreigners Registration offices within their respected cities in India & provide their registration cards during customs clearance. Mini Transfer of Residence (only for Indian passport holders)
– Indian passport holders returning to India after a period of not less than one year are allowed to import their personal effects and household goods subject to the following condition:- Person must be returning to India upon termination of employment and have stayed overseas for at least 365 days in the preceding two years prior to arrival.- Mini TR. is available only once in three years

Customs clearance times

| | | |
| --- | --- | --- |
| Air Shipments | Surface Shipment (FCL) | Surface Shipment (LCL) |
| 3-5 working days | 5-10 working days | 5-10 working days |
Above times are estimates only and on the basis that all required documents are available and in order. Actual time for customs clearance may be subject to change. For more information please contact destination office.

Customs and quarantine procedures
The clearance procedures and documentation for customs vary from port to port in India. Our destination agent contact will provide necessary documentation, assistance and information on arrival. The general procedure for clearance is :
The personal effects of Foreign or Indian Nationals, transferring residence to India are cleared by customs under the Baggage Rules according to which:1. The owner/ shipper must be present in the country before the shipment arrival during clearance.2. The shipper must be physically present during the customs inspection, except under exceptional circumstances in which case a power of attorney must be obtained to allow a representative to attend inspection in the owner/ shipper's absence. However, the original passport of the shipper is required forcustoms entries.3. Upon arrival we will provide the shipper with all documents required for customs clearance and provide assistance in their completion.4. Except Diplomatic shipment and other exempt shipments, all containers are de-stuffed at the designatedareas at the port of entry.5. All shipments are subject to 100% physical customs examination.6. Only Diplomatic shipments are allowed to be taken out in the original FCL containers in which they arrived. All other shipments will be transported in liftvans/ loose load as applicable.7. The customs officer will determine the customs valuation of all items in the shipment. Purchase documents and receipts, if available, should be presented with the completed customs form prior to inspection.8. Customs duty will be levied based on customs valuation for all dutiable items (electrical and electronic items) listed in this Country Data Sheet and other items that are less than one year old.9. Shipments can only be cleared after all customs duties and levies are paid in full by the shipper.
Above times are estimates only and on the basis that all required documents are available and in order. Actual time for customs clearance may be subject to change. For more information please contact RapidWorld.