Moving Home to Hong Kong? Shipping Furniture & Personal Effects to Hong Kong?
RapidWorld Relocations is a leading international moving company in China with offices in Beijing, Guangzhou and Shanghai.
Submit a quote request, email us or call us at 86-21-5443-6852, and we will get back to you shortly.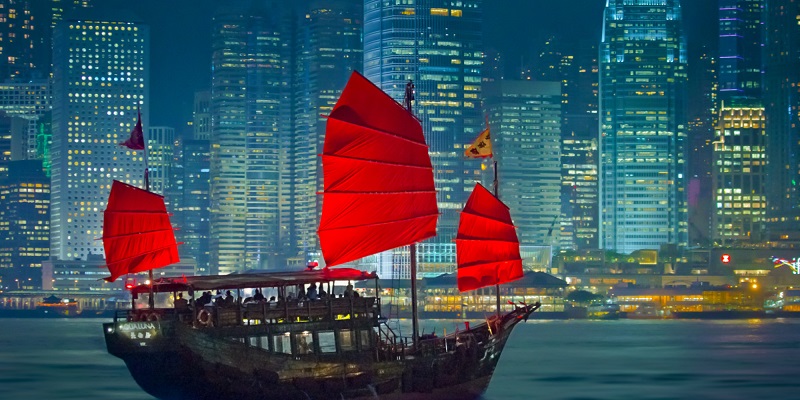 Hong Kong is frequently described as a place where "East meets West", reflecting the culture's mix of the territory's Chinese (mainly Cantonese) roots with Western (mainly British) influences from its time as a British colony. Concepts like feng shui are taken very seriously, with expensive construction projects often hiring expert consultants, and are often believed to make or break a business. Other objects like Ba gua mirrors are still regularly used to deflect evil spirits, and buildings often lack any floor number that has a 4 in it, due to its similarity to the word for "die" in Cantonese. The fusion of east and west also characterises Hong Kong's cuisine, where dim sum, hot pot, and fast food restaurants coexist with haute cuisine.
Hong Kong is a recognized global centre of trade and calls itself an "entertainment hub". Its martial arts film genre gained a high level of popularity in the late 1960s and 1970s. Several Hollywood performers, notable actors and martial artists have originated from Hong Kong cinema, notably Bruce Lee, Jackie Chan, Chow Yun-fat, Michelle Yeoh, Maggie Cheung and Jet Li. A number of Hong Kong film-makers have achieved widespread fame in Hollywood, such as John Woo, Wong Kar-wai, and Stephen Chow. Homegrown films such as Chungking Express, Infernal Affairs, Shaolin Soccer, Rumble in the Bronx, In the Mood for Love and Echoes of the Rainbow have gained international recognition. Hong Kong is the centre for Cantopop music, which draws its influence from other forms of Chinese music and Western genres, and has a multinational fanbase. The Hong Kong government supports cultural institutions such as the Hong Kong Heritage Museum, the Hong Kong Museum of Art, the Hong Kong Academy for Performing Arts, and the Hong Kong Philharmonic Orchestra. The government's Leisure and Cultural Services Department subsidises and sponsors international performers brought to Hong Kong. Many international cultural activities are organised by the government, consulates, and privately. Hong Kong had two licensed terrestrial broadcasters – ATV and TVB, the former of which has now been defunct. There are three local and a number of foreign suppliers of cable and satellite services. The production of Hong Kong's soap dramas, comedy series, and variety shows reach audiences throughout the Cantonese-speaking population. Magazine and newspaper publishers in Hong Kong distribute and print in both Chinese and English, with a focus on sensationalism and celebrity gossip. The media in Hong Kong is relatively free from official interference compared to Mainland China, although the Far Eastern Economic Review pointed to signs of self-censorship by media whose owners have close ties to or business interests in the People's Republic of China and states that even Western media outlets are not immune to growing Chinese economic power. Hong Kong offers wide recreational and competitive sport opportunities despite its limited land area. It sends delegates to international competitions such as the Olympic Games and Asian Games, and played host to the equestrian events during the 2008 Summer Olympics. There are major multipurpose venues like Hong Kong Coliseum and MacPherson Stadium. Hong Kong's steep terrain and extensive trail network with expansive views attracts hikers, and its rugged coastline provides many beaches for swimming.
The first of many great reasons to move to Hong Kong is that the people work hard, the service industry is incredibly efficient, the infrastructure is in place, public transport is cheap and the Government doesn't interfere with day-to-day life. More people stay on in Hong Kong for longer than they initially expected than places such as Singapore. In fact Hong Kong is the second most popular destination for people to stay on, second only to the United Arab Emirates. There is an extraordinary variety of experience and diversity of environments on offer in Hong Kong considering the relatively small space. Regardless of if you are a single professional in your mid twenties or a professional with a family you will be able to find the right neighbourhood in Hong Kong, you will find an exceptionally high standard of living and quality of life in Hong Kong. The value of Asian professionals in Hong Kong with International experience has increased rapidly. Asians whose home countries are now becoming economic powerhouses have become a highly prized commodity as they combine international skills and training with a good understanding of the local culture and customs. Over 83% of people who have relocated to Hong Kong say that it has advanced their personal development. 77% say it has benefited their career prospects, 72% say it has enhanced their salaries, and 12% of people felt that there were no barriers at all to moving to Hong Kong whilst 43% said that the only thing stopping them was family. All of which point toward a group of very happy people after choosing to move to the thriving country of Hong Kong. With regard to Visa requirements there are a few different types of Visa that are available for foreigners relocating to Hong Kong and wishing to seek employment. You will most likely need a Visa to enter Hong Kong unless you are a Chinese Citizen or a British Passport holder. If you obtain a Visitor's Visa, this will allow you to visit Hong Kong and search for employment. You can then go back home and apply for a work permit once you have received an offer of employment from a Hong Kong employer. If you are staying for only 14 days, some nationals will not require a Visa to enter Hong Kong.
When it comes to moving to HK, there is a process that is long established and RapidWorld is able to help you resolve any issues. From arranging visas, finding properties and school places, to helping you decide what to take, packing it and shipping it to your new home, you won't be alone. Our services cover whole China span including Beijing, Shanghai, Guangzhou, Shenzhen, Tianjin, Wuhan, Hangzhou, Suzhou, Guilin, Guiyang, Xiamen, Jinan, Nanchang, Changchun, Harbin, etc. We can move you from everywhere in Mainland China to Hong Kong. Here below are some important information regarding moving personal used household goods and effects to Hong Kong. Please feel free to contact us should you have any question.

PROHIBITED ITEMS

The following is not permitted into HK and if included in shipments will result in seizure of all prohibited items and possible legal penalties against the shipper:

l Drugs of various kinds.
l Firearms, ammunition, explosives, and flick knives
l Obscene books, photographs, and all pornographic materials
l Plants, trees and vegetables
l Uncooked meat and poultry
l Dangerous drugs
l Counterfeit goods and infringing article

RESTRICTED ITEMS
Liquor with an alcoholic strength of more than 30% by volume measured at a temperature of 20 degree Celsius will subject to a duty rate of 100%.

Where there is no, or insufficient, information available from which the Commissioner (or any officer authorized by him on that behalf) is able to determine the value of any quantity of liquor of less than 12 litres, imported at any time in one consignment, he may assess the duty payable on such liquor at the rate HK$ 160.00 per litre.

For personal use: All types of wine and beer will be duty free as from February 27, 2008, regarding the reduction of duty on the two types of liquor proposed for zero duty as listed below.

(a) Wine (e.g. red and white table wines, champagne, sherry, etc); and
(b) liquor (other than wine) with an alcoholic strength of not more than 30% by volume measured at a temperature of 20 degrees Celsius (e.g. beer, cider, Perry, etc.)
Duty on Tobacco
1) Duty shall be payable on tobacco at the following rates –

(a) For each 1,000 cigarettes HK$804.00
(b)Cigars HK$1035/kg
(c) Chinese prepared tobacco HK$197/kg
(d) All other manufactured tobacco except
Tobacco intended for manufacture of cigarettes HK$ 974/kg

2) For the purpose of applying the duty under paragraph 1 (a) a cigarette more than 90 mm long, excluding any filter or mouthpiece, shall be treated as if each additional 90mm or portion of 90 mm were a separate cigarette.

DOCUMENTS REQUIRED

· Passport Copy (HK ID required for HK returning citizens)
· Packing Inventory
· Wine List if applicable
· Authorization letter for customs clearance on customer's behalf

CLEARANCE PROCEDURES
Both Air and Surface shipments have to allow for customs clearance an average of 2 working days upon shipment arrival except those selected by customs for physical inspection which might take a further 2 to 4 working days to complete.If alcohol is included in shipment, a separate list of the value (1 for alcohol strength over 30% by volume, 1 for alcohol strength less than 30% by volume), the quantity, the currency of valuation, the content of alcohol has to be listed for duty assessment.
Customs clearance times
| | | |
| --- | --- | --- |
| Air Shipments | Surface Shipment (FCL) | Surface Shipment (LCL) |
| 2-3 working days | 2-3 working days | 3-5 working days |
Above times are estimates only and on the basis that all required documents are available and in order. Actual time for customs clearance may be subject to change. For more information please contact destination office.

Customs and quarantine procedures

Hong Kong is one of the easiest countries/regions for importing personal used goods. You don't even need to have a proper work visa. However, HK customs do have a conventional random inspection and there would be additional costs involved if they do so.

Above times are estimates only and on the basis that all required documents are available and in order. Actual time for customs clearance may be subject to change. For more information please contact RapidWorld.