Moving from China to Germany? Shipping Furniture & Personal Effects to Germany from China?
RapidWorld Relocations is a leading international moving company in China with offices in Beijing, Guangzhou and Shanghai. We have vast experience of moving families from China to Germany.
Submit a quote request, email us or call us at 86-21-5443-6852, and we will get back to you shortly.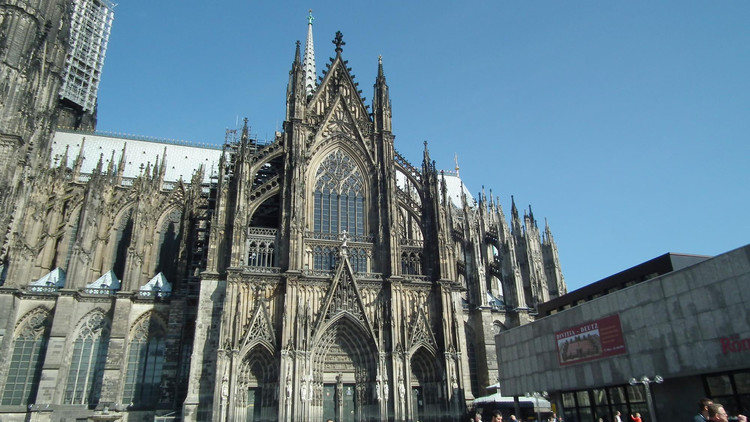 Germany or Deutschland, officially the Federal Republic of Germany is a federal parliamentary republic in central-western Europe. It includes 16 constituent states, covers an area of 357,021 square kilometres (137,847 sq mi), and has a largely temperate seasonal climate. With about 82 million inhabitants, Germany is the most populous member state of the European Union. After the United States, it is the second most popular immigration destination in the world. Germany's capital and largest metropolis is Berlin, while its largest conurbation is the Ruhr, with its main centres of Dortmund and Essen. The country's other major cities are Hamburg, Munich, Cologne, Frankfurt, Stuttgart, Düsseldorf, Leipzig, Bremen, Dresden, Hannover and Nuremberg.
Various Germanic tribes have inhabited the northern parts of modern Germany since classical antiquity. A region named Germania was documented before 100 AD. During the Migration Period, the Germanic tribes expanded southward. Beginning in the 10th century, German territories formed a central part of the Holy Roman Empire.[11] During the 16th century, northern German regions became the centre of the Protestant Reformation. After the collapse of the Holy Roman Empire, the German Confederation was formed in 1815. The German revolutions of 1848–49 resulted in the Frankfurt Parliament establishing major democratic rights. In 1871, Germany became a nation state when most of the German states unified into the Prussian-dominated German Empire. After World War I and the German Revolution of 1918–19, the Empire was replaced by the parliamentary Weimar Republic. In 1933 the Nazi seizure of power quickly led to the establishment of Nazi Germany which was built upon a dictatorship and consequently led to World War II and the Holocaust. After the end of World War II in Europe and a period of Allied occupation, two German states were founded: the democratic West Germany and the socialist East Germany. On 3 October 1990, the country was reunified. In the 21st century, Germany is a great power and has the world's fourth-largest economy by nominal GDP, as well as the fifth-largest by PPP. As a global leader in several industrial and technological sectors, it is both the world's third-largest exporter and importer of goods. Germany is a developed country with a very high standard of living sustained by a skilled and productive society. It upholds a social security and universal health care system, environmental protection and a tuition-free university education. The Federal Republic of Germany was a founding member of the European Economic Community in 1957 and the European Union in 1993. It is part of the Schengen Area, and became a co-founder of the Eurozone in 1999. Germany is a member of the United Nations, NATO, the G7 (formerly G8), the G20, and the OECD. The national military expenditure is the 9th highest in the world. Known for its rich cultural history, Germany has been continuously the home of influential and successful artists, philosophers, musicians, sportspeople, entrepreneurs, scientists, engineers, and inventors. Most of Germany has a temperate seasonal climate dominated by humid westerly winds. The country is situated in between the oceanic Western European and the continental Eastern European climate. The climate is moderated by the North Atlantic Drift, the northern extension of the Gulf Stream. This warmer water affects the areas bordering the North Sea; consequently in the northwest and the north the climate is oceanic. Germany gets an average of 789 mm (31 in) of precipitation per year; there is no consistent dry season. Winters are cool and summers tend to be warm: temperatures can exceed 30 °C (86 °F). The east has a more continental climate: winters can be very cold and summers very warm, and longer dry periods can occur. Central and southern Germany are transition regions which vary from moderately oceanic to continental. In addition to the maritime and continental climates that predominate over most of the country, the Alpine regions in the extreme south and, to a lesser degree, some areas of the Central German Uplands have a mountain climate, with lower temperatures and more precipitation. Culture in German states has been shaped by major intellectual and popular currents in Europe, both religious and secular. Historically Germany has been called Das Land der Dichter und Denker ("the land of poets and thinkers"), because of the major role its writers and philosophers have played in the development of Western thought. Germany is well known for such folk festival traditions as Oktoberfest and Christmas customs, which include Advent wreaths, Christmas pageants, Christmas trees, Stollen cakes, and other practices. As of 2016 UNESCO inscribed 41 properties in Germany on the World Heritage List. There are a number of public holidays in Germany determined by each state; 3 October has been a national day of Germany since 1990, celebrated as the Tag der Deutschen Einheit (German Unity Day). Prior to reunification, the day was celebrated on 17 June, in honor of the Uprising of 1953 in East Germany which was brutally suppressed on that date. In the 21st century Berlin has emerged as a major international creative centre. According to the Anholt–GfK Nation Brands Index, in 2014 Germany was the world's most respected nation among 50 countries (ahead of US, UK, and France). A global opinion poll for the BBC revealed that Germany is recognised for having the most positive influence in the world in 2013 and 2014.

When it comes to moving to Germany, there is a process that is long established and RapidWorld is able to help you resolve any issues. From arranging visas, finding properties and school places, to helping you decide what to take, packing it and shipping it to your new home, you won't be alone. Our services cover whole China span including Beijing, Shanghai, Guangzhou, Shenzhen, Tianjin, Wuhan, Hangzhou, Suzhou, Guilin, Guiyang, Xiamen, Jinan, Nanchang, Changchun, Harbin, etc. We can move you to everywhere in Germany including Frankfurt, Munich, Berlin, Dusseldorf, Stuttgart, Hamburg, Essen, etc. Here below are some important information regarding moving personal used household goods and effects to Germany. Please feel free to contact us should you have any question.

PROHIBITED ITEMS

The following is not permitted into Germany and if included in shipments will result in seizure of all prohibited items and possible legal penalties against the shipper:
• Firearms, ammunitions, explosives, swords and flick knives.• Publications or material of a pornographic or politically subversive nature.• Drugs• Fresh unprocessed foods, animal products, plants and trees
Please avoid sending food items, medicines and cosmetics with your shipment. Never ship food items, tobacco, alcohol, new items or commercial goods by air freight. Even if used at origin or exported from Germany before, duties and taxes will apply!
Alcohol, tobacco, commercial vehicles and commercial used goods are all subject to duties and import VAT. Additional charges for customs clearance of alcohol and other goods which can't be declared as used house hold goods will apply. The duties and taxes will be in the range of 40-50% based on the declared value of the goods + partial shipping charges.

DOCUMENTS REQUIRED

APPLICABLE FOR BOTH EXPATS & RETURNING CITIZENS• Consignee's valid passport copy• Signed letter from employer (if the move is corporate) stating: employment details abroad (also required for German citizens), confirming you were residing outside EU for a period of at least 12 months. If no company letter can be obtained please provide documents as stated under 'Important Notice' below.• A copy of the certificate of residence ("Anmeldebestaetigung") obtained from the local authorities in the relevant town/district in Germany. Without this document, clearance as used household goods (Tax-Free) cannot be guaranteed. Shipper has to be present in Germany to receive this document. If the shipper was still registered in Germany while they were abroad, which shouldn't be the case, the following is required:o Personal statement providing the reason for not de-registeringo Recent printout from the town hall registration (Melderegisterauszug), not older than three months.o supporting documents / invoices
DIPLOMATSShipments for foreign diplomats are duty free if Germany has a joint agreement with the origin country. However, customs are authorized to inspect goods at the home residence, even if all relevant documentation has been provided as the carrier cannot guarantee clearance at border.Required documents:
• Certification from the relevant embassy or consulate.• Completed 0349 Form.• Valid diplomatic card copy.• Valid passport copy.



CLEARANCE PROCEDURES

To refrain from incurring any demurrage or detention charges at POE/ AOE, please ensure the shipment is not dispatched until all necessary documentation has arrived at the destination branch for clearance. In this instance, the destination branch pass these charges back to origin.

Under normal circumstances, the transferee must have lived outside of the EU for a period of 12 month or more, prior to importing personal effects. The transferee must have de-registered when they left Germany. Goods must belong to the transferee and non-consumables must have been owned for at least six month prior to importation, used for the same purpose as at origin. These items must not leave the transferee's possession for a period of no less than 12 month. In the case where the above mentioned requirements cannot be fulfilled, the goods will be subject to duties and import VAT of approximately 40 – 50% of the customs value plus partial shipping charges determined by German customs.

Customs clearance times

| | | |
| --- | --- | --- |
| Air Shipments | Surface Shipment (FCL) | Surface Shipment (LCL) |
| 3-5 working days | 3-5 working days | 5-10 working days |
Above times are estimates only and on the basis that all required documents are available and in order. Actual time for customs clearance may be subject to change. For more information please contact destination office.

Customs and quarantine procedures

Germany customs is increasing the practice of physical inspection out of the concern on the terrorism acts. However, it is still a random act so far. Inspection would involve additional customs fees and handling fees.

Above times are estimates only and on the basis that all required documents are available and in order. Actual time for customs clearance may be subject to change. For more information please contact RapidWorld.