Moving from China: 37 Destinations – Where & Why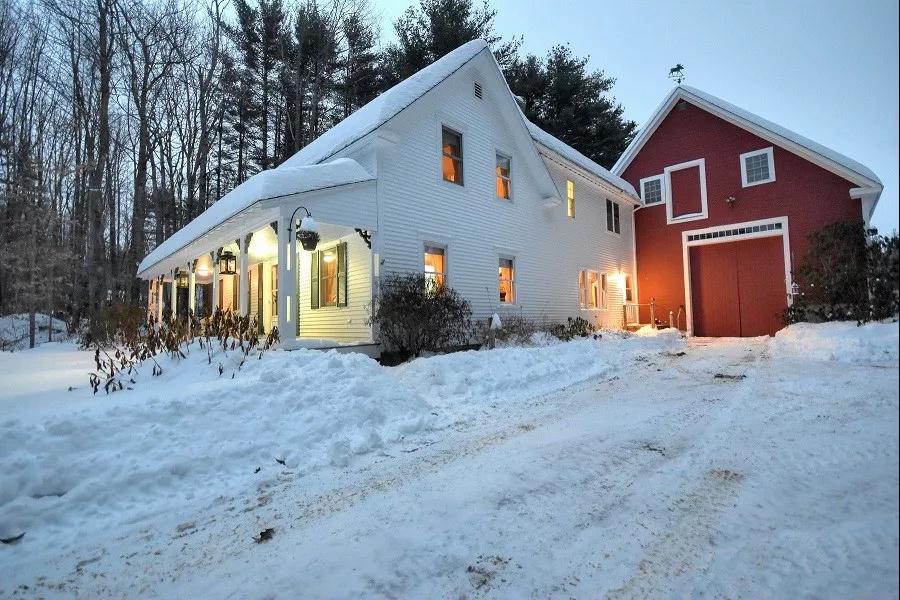 RapidWorld conducted 613 moves from January 1 to December 31 in 2018. Among these moves, there are 206 intra-China moves, 57 inbound moves and 350 outbound moves. The report we are going to talk about is based on the data we extracted from these 350 outbound moves only.
They say home is where the heart is. But for a large proportion of the world's population, home is where the work is.
Being an expat in China, ever wondering where your fellow laowai's moved to? Let us tell you some with our 2018 year-end report.      – Where do people move from China to?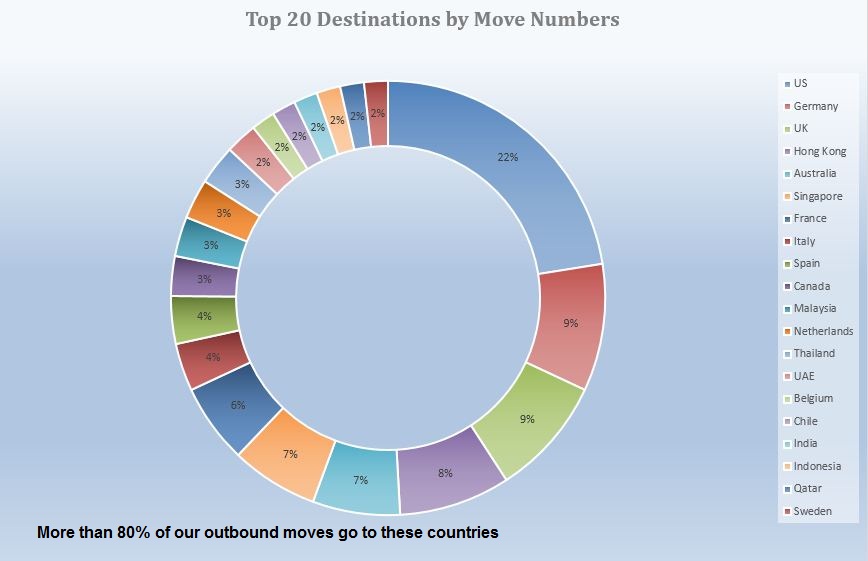 350 individuals/families used our outbound moving services and moved to 37 different destination countries/regions. US, Germany, UK, Hong Kong, Australia, Singapore, France, Italy, Spain and Canada are the 10 most popular countries/regions. These 10 destinations contributed 60% of the outbound moves.
If we span this scale to the top 20 destinations, you will be amazed to see that these countries/regions took more than 80% of the outbound moves. Quite amazing!
Let's take a more close look into the data. We found that more than 20% of the outbound moves went to the US, far ahead from Germany – 2nd place, which contributed 8% of the outbound moves.
We had a new destination in 2018: Zambia. We successfully moved an American family to Lusaka, Zambia in the last summer.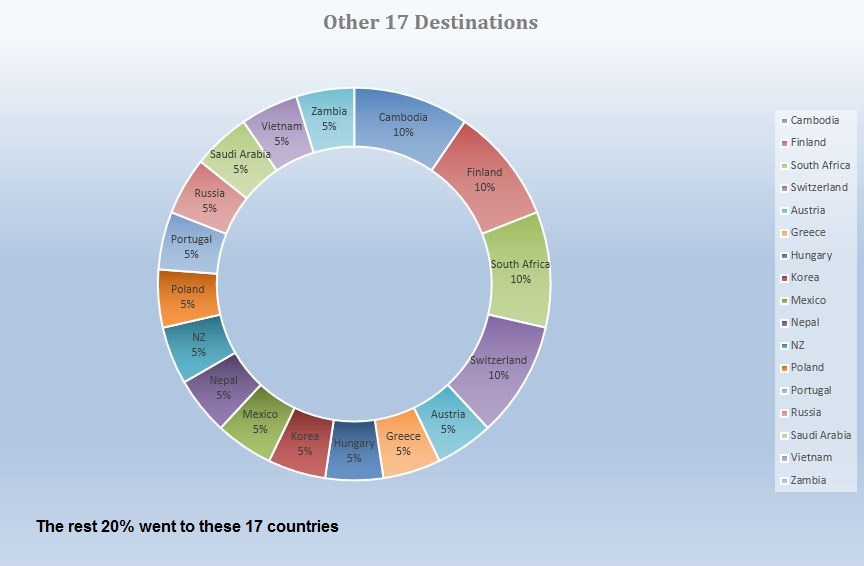 – For what do people move to these destinations?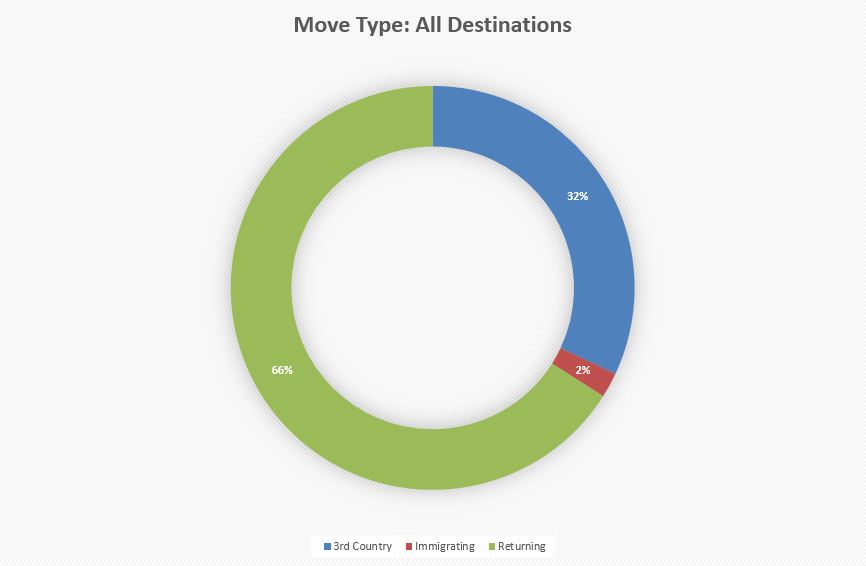 Based on the nationality and move documents of our customers, we labelled the moves as "returning" move, "immigrating move", and "3rd country" move. We can fairly say that moving to a 3rd country is most probably for a better job offer. Although we cannot say that people moving back to their home countries aren't for work, but I am sure that being closer to the family is one of the crucial reasons when they made that decision to take that job offer. Among all the moves, we see that 66% of the people moved back. 
When we looked up on the top destinations, we found "returning" takes much much more places. A lot of Americans, British and Germans went back home this year. This phenomenon has actually maintained for years. It reflects that international businesses from these countries are suffering in China for the past years, and this as well probably can reflect that the financial situation in US and Europe are getting better.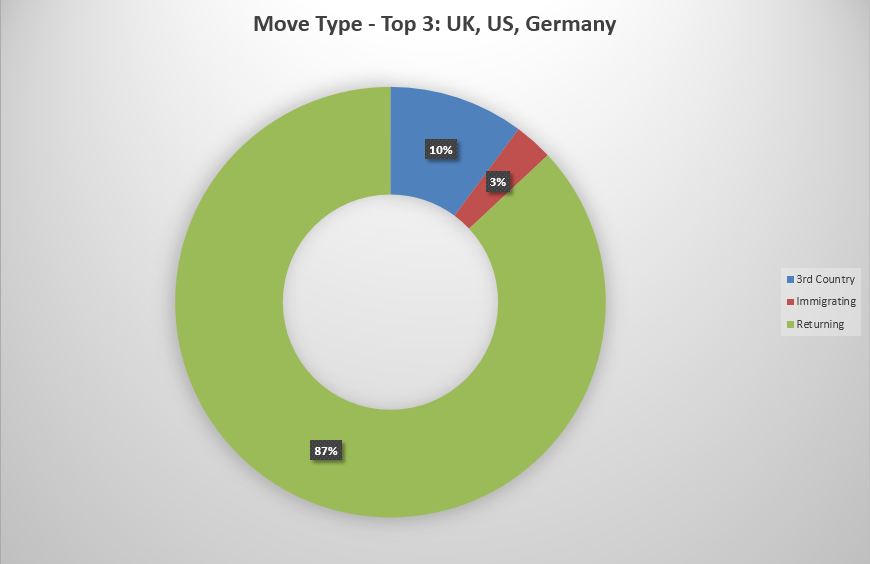 Hope you find this report interesting.
Starting 2006, RapidWorld has been developing and enjoying our growing reputation as a moving company by bringing our values into our services. We care our customers and enjoy the echoes of happy mouth which keeps our enthusiasm of learning and progressing. Today, with the partnerships with some industry conventions, RapidWorld is able to provide customized relocation solutions throughout the world with smart services partners sharing same core values. With offices in Beijing, Guangzhou, Shanghai, as well as Suzhou & Hangzhou, we handle over 500 moves each year.